Marketing & Advertising
How to Use Salesforce To Increase Customer Retention Boost Customer Retention with Salesforce: Effective Strategies
Published on 12 April 2021 - 7 minutes of reading time
Last update: 25 May 2023 at 11:54 am
Customer relationship management (CRM) oversees and nurtures a company's interactions and relationships with potential and existing customers. As a leading CRM solution, Salesforce offers many tools to help build and manage these relationships, boost business growth, bolster marketing efforts, and much more.
These efforts go hand-in-hand with customer retention, a core business goal for most organizations. Also known as the churn rate, this key metric is crucial to short- and long-term success. This article looks closely at CRM and how to use Salesforce to increase customer retention and avoid churn.
A Brief Look at CRM
arrow_drop_down
A Brief Look at CRM
What is Salesforce?
Salesforce Platform
Sales Cloud
Marketing Cloud
Service Cloud
Commerce Cloud
Tableau Analytics
Integration
Why You Should Care About Customer Retention
Using Salesforce to Increase Customer Retention
Keep All Your Data In One Place
Use Segmentation to Deliver Valuable Offers
Encourage Dormant Customers To Take Action
Use Social Media To Your Advantage
Understand Your Customers' Experiences
A Brief Look at CRM
CRM has come a long way since phone calls, handshakes, and the occasional letter in the postbox. Today, organizations use CRM software to:
Store customer and prospect contact information
Record and manage interactions and service issues
Identify potential leads
Launch and manage marketing campaigns
Gather data and gain in-depth insights into customer behavior
With the above CRM tools on one centralized platform, businesses can streamline their processes, enhance customer relationships, and ultimately bolster profitability.
From prospecting and marketing to customer acquisition and retention, a CRM system allows small, medium, and large organizations to improve efficiency.
It helps organizations manage the entire customer lifecycle, after-sales care, and digital commerce. Companies also use CRM solutions to nurture other relationships with individuals, including colleagues, suppliers, and service users.
Regarding customer retention, these elements all play a pivotal role. As you'll learn below, avoiding churn takes time, dedication, and a well-executed strategy. Before getting into customer retention, let's look at what Salesforce is and some of its products.
What is Salesforce?
Salesforce is a software-as-a-service (SaaS) product, which means you choose a subscription, sign up, log in, and use the online suite of tools to your heart's content. Unlike traditional software, no purchase, download, or installation is required. This also means that your entire organization can access it anytime, anywhere.
Source: Salesforce
As an industry leader, Salesforce was one of the first to launch a cloud-based CRM system. Today, its vast range of SaaS CRM solutions dominates the market. Besides relationship management, Salesforce offers a variety of tools for custom app development too. It caters to small enterprises and large corporations alike.
With Salesforce, businesses are better equipped to understand their customers' needs, manage their expectations, execute marketing campaigns, identify potential prospects, oversee performance, and more. Some of Salesforce's primary products include:
Salesforce Platform
Customizable solutions
Quality apps builder
Adjust security levels
Scale on a secure network
Sales Cloud
Contact and lead management
Workflow automation
Collaborative forecasting
Rules-based lead scoring
Marketing Cloud
Tailor-made email campaigns
Customer journey builder
Customer experience tracking and management
Marketing and sales automation
Personalized interactions
Data analysis and decision-making
Service Cloud
Multi-channel customer interactions
AI-powered chatbots
Automated processes
Customer self-service options
Analytics and insights
Commerce Cloud
Personalized campaigns
Customized shopping experiences
Automated transactions and processes
Scalable platform
Tableau Analytics
Shareable insights
Drag-and-drop analysis
Data management and governance
Visualisations
Integration
Automated business processes
Export and unify data
Prebuilt APIs
Customizable dashboards
Why You Should Care About Customer Retention
Customer retention can be described as the rate at which businesses keep active customers over a given period. It's also known as the churn rate and is often a key performance indicator (KPI). A lower churn rate means an enterprise has more loyal customers. This indicates a more successful business that retains more customers over time.
Closing leads is an essential part of any marketing strategy. However, retaining customers is just as important. Studies have consistently shown that acquisition is 5 to 25 times more expensive than customer retention. After all, it's more cost-effective to upsell and promote products or services to existing clients that already know and trust your brand.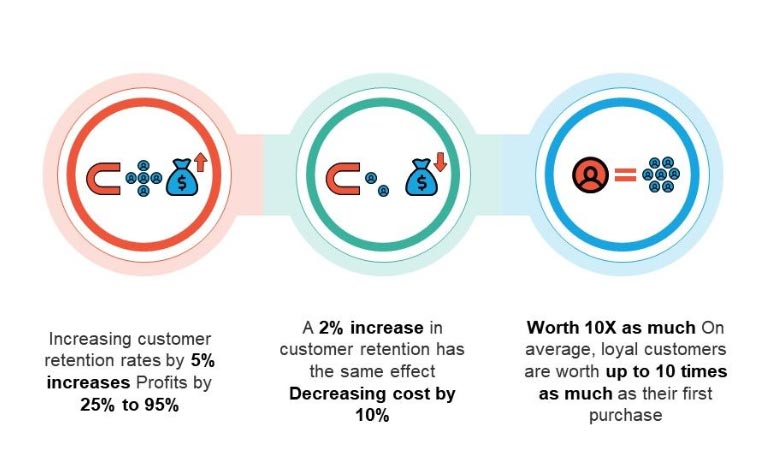 Source: REVE Chat
Research also indicates that even a 5% increase in customer retention equals around 25% more profit. Moreover, loyal customers make repeat purchases, meaning they're valuable and the kind of business you want. They're more likely to refer your products or services to others.
Using Salesforce to Increase Customer Retention
So, how do you keep more customers and avoid churn using Salesforce? Here are six ways to implement an effective customer retention strategy.
Keep All Your Data In One Place
Sales and marketing teams have historically existed at odds with one another. Working in data silos, they'd compete for precious customer data. At the same time, customer service was also separate. However, software solutions like Salesforce have abolished that problem.
Its powerful integrations allow for streamlined customer communication touchpoints. Rather than transferring data manually from one system to another, customer interactions can be recorded and captured in customer service software and your CRM. This creates transparency throughout the entire sales funnel.
With marketing, sales, and customer service teams having the same 360-degree view of each customer, they can make more informed decisions. In turn, this means improved customer service and, therefore, retention.
How a business collects, analyses, and ultimately acts on data is paramount to success.
If you're already using Salesforce while integrating your other systems, you've likely collected a fair amount of customer data by now.
Tableau Analytics comes with AI-powered analytics tools that help businesses understand why something happened and what to do about it. You can generate customized reports, create visualizations and analyze pertinent information to:
Understand performance trends
Make predictions
Identify problem areas
Find solutions
Take appropriate action
With tailor-made analytics, you can increase customer retention by identifying clients likely to churn based on their low activity levels and then taking preventative measures. Salesforce offers data-driven recommendations and guidance to make this easier for you too.
Use Segmentation to Deliver Valuable Offers
Salesforce CRM allows you to segment prospects and customers into groups based on their interactions with your brand. You can then use these datasets to create personalized, nurturing marketing campaigns at an individual level.
Email segmentation is crucial when it comes to retargeting and retention efforts. It ensures that a company delivers relevant content at the ideal time. For example, existing customers will likely get annoyed if you bombard them with initial purchase promotions.
However, they'll likely be pleased if they receive a valuable offer catering to their needs or wants.
Encourage Dormant Customers To Take Action
Another excellent way to increase retention is by ensuring your existing customers are as active as possible. First, use Salesforce analytics to identify and track inactive clients. You can then set up automated emails via the CRM platform or another integrated email service provider.
Once again, your customers will only appreciate an email that offers valuable information. For instance, if you know a client hasn't used one of your products to its full potential, an email explaining its full benefits could reignite their interest. Best practice guides, advanced tips, or case studies may all be ideal options.
Keep in mind that this strategy is best applied to inactive clients. A customer already familiar with a product won't enjoy an influx of automated emails that don't provide any value.
Use Social Media To Your Advantage
Studies have found that social media platforms are the channels of choice for quick responses. Research also indicates a 15% increase in churn for businesses that don't respond via social media.
Nowadays, it's no secret that customers expect personalized and immediate service from brands. Fortunately, social media is a fantastic way to resolve potential issues and queries in record time. With Salesforce Social Studio, you'll have all the tools you need to:
Monitor and analyze conversations from popular social networks
Track business-relevant keywords
Identify influential conversations
Monitor consumer sentiments
By making data-driven decisions, You can use these actionable insights to improve customer retention. Moreover, Salesforce's social media integrations mean you can create a unified customer experience.
After all, if you care enough about your customers to cater to their communication preferences, you're more likely to keep their business.
Understand Your Customers' Experiences
Customer journey mapping is the process of charting your customers' engagements with your brand at all touchpoints, such as:
Opening an email
Redeeming a coupon
Clicking on an advert
Contacting customer support
According to a Salesforce report, 65% of marketing professionals said a customer journey strategy positively impacted churn rates, while 70% said it affected revenue growth.
When you better understand the steps customers take before purchasing your service or product, you can deliver a personalized experience. With the Salesforce AI-powered Marketing Cloud, you can predict behaviors, make targeted recommendations, and engage with your customers at every stage of their journey.
Customer relationship management is at the forefront of any enterprise, and Salesforce offers a world-class CRM solution and various products. It addresses countless business needs, from acquisition and sales to engagement and marketing. Now that you know how to use Salesforce to avoid churn, you can increase customer retention and grow your business.