Advertising & Display
15 Drool-Worthy Restaurant Advertisement Examples to Follow
Published on 4 October 2021 - 10 minutes of reading time
Last update: 22 December 2022 at 04:27 pm
Your restaurant advertising mix will be determined by your company objectives. Whether you're just starting, want to rebrand, or want to establish yourself as the go-to spot for a specific sort of cuisine, a strong marketing campaign may help you achieve your goals.
Restaurant ads have always attempted to arouse the senses by emphasizing the food itself. While food photography is still important, storytelling, good branding, and connection with a certain lifestyle are becoming increasingly important.
We're looking at some of the finest restaurant advertising ideas and efforts of recent years and what your business can learn from them, from evoking a little FOMO on social media platforms to crafting genuinely remarkable restaurant advertisements.
Types of Marketing Strategies for Restaurant Advertising
arrow_drop_down
Types of Marketing Strategies for Restaurant Advertising
Social Media Restaurant Ads
Geo-targeted Restaurant Ads
Video Content Restaurant Ads
Digital Billboards
Branded Items
Restaurant Google Ads
Best Restaurant Advertisement Examples
Panda Express
Domino's Pizza
Van Leuween Ice Cream
Burger King
Burger King 2.0
Denny's
McDonald's
Legal Sea Foods
Essential Factors to Keep in Mind When Creating Restaurant Ads
FOMO
Seasonal Advertisement
What Kind of Potential Does Good Restaurant Advertising Have?
Summing Up
Types of Marketing Strategies for Restaurant Advertising
You may develop strong and appealing advertising campaigns for your restaurants in a variety of methods. You can use both digital marketing tactics and traditional ones to attract customers either way.
Of course, who your target customers are and where they can be discovered should dictate the advertising tactics you use. Keep up with the most up-to-date restaurant marketing concepts and trends within the restaurant industry.
To assist you, here are some suggestions for making your restaurant stand out and attracting customers:
Social Media Restaurant Ads
Probably the most trendy form of online advertising for a restaurant these days is on social media platforms.
To entice consumers, use visually appealing, high-quality, appetizing photographs to promote your food business via social network ads e.g. Instagram ads, TikTok Ads, Facebook ads….
For these kinds of restaurant advertising ideas, however, it is important to have a social media marketing strategy well in place before launching your business on social platforms. Social media agencies can provide you with all the necessary tools to make your strategy a lead-generating success!
Check out our article on restaurant social media to build your own social media campaign.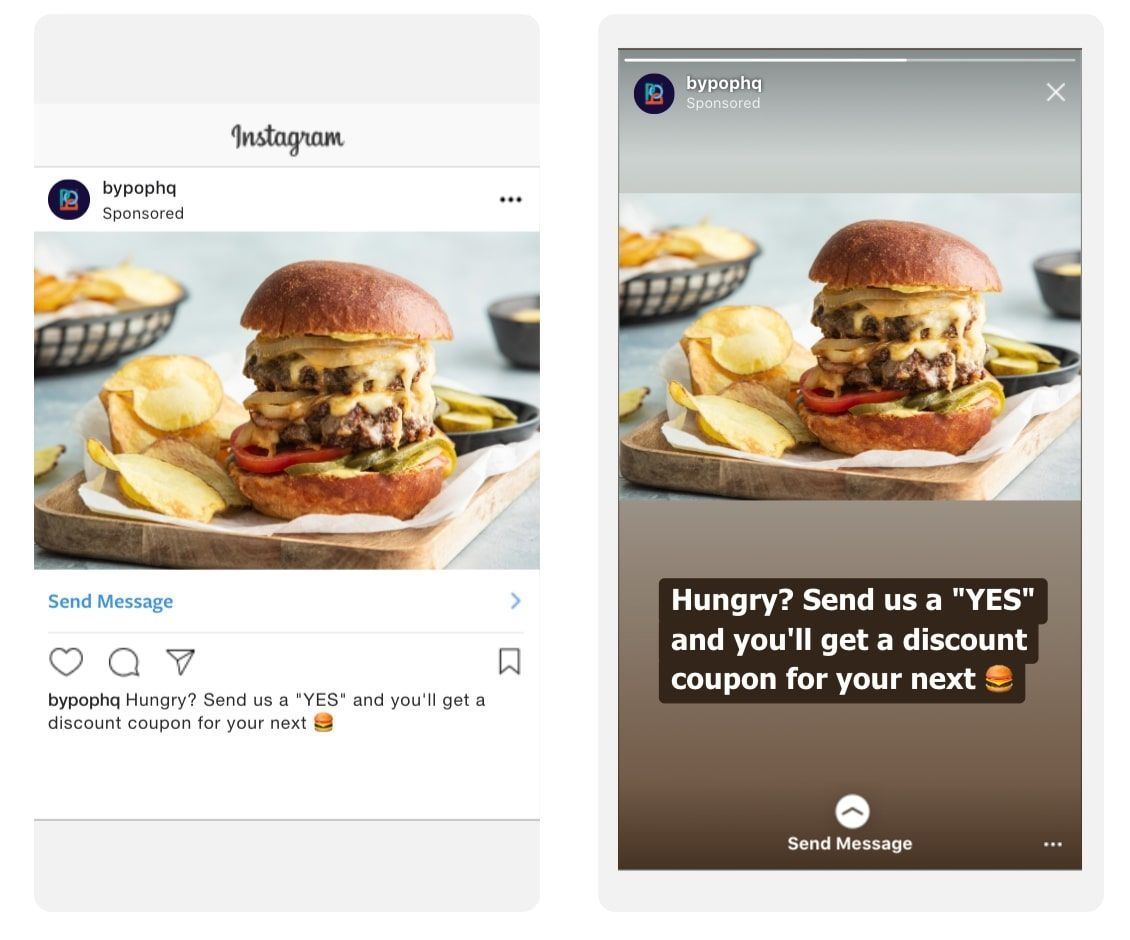 Geo-targeted Restaurant Ads
This online advertising feature is offered to businesses by Google.
Google Ads location targeting allows your ads to appear in the geographic locations that you choose: countries, areas within a country, a radius around a location, or location groups, which can include places of interest, your business locations, or tiered demographics.

Google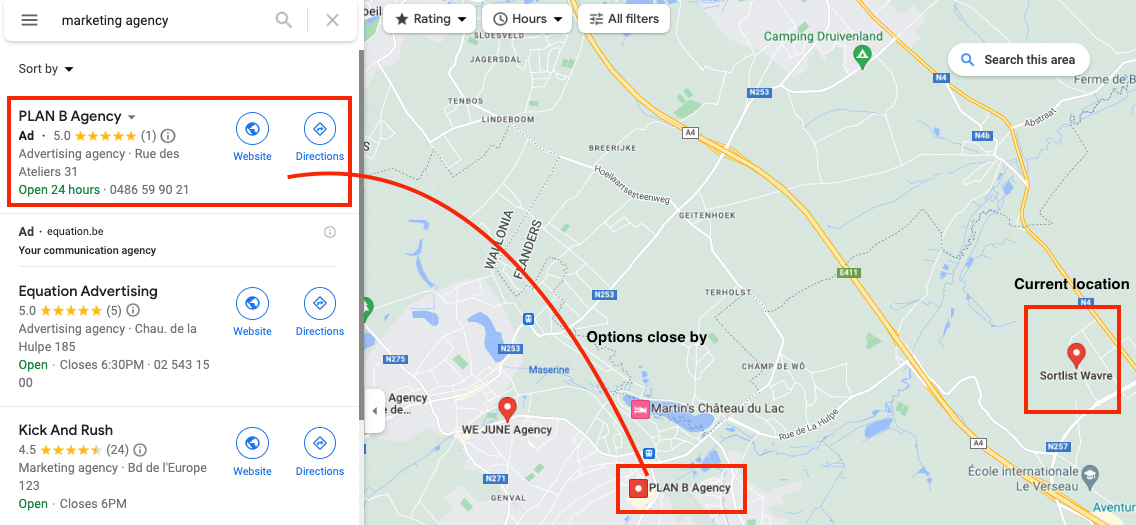 Plan B agency in Rixensart
Video Content Restaurant Ads
Instead of traditional billboards and magazine advertisements, use an eye-catching video ad to promote your business on platforms such as YouTube.
It is less expensive than traditional advertisements and may be used to market anything, including menu items, promotions, and events. You can even go through a youtube advertising agency to make quality content.
Open Table on Youtube from Reddit
Digital Billboards
Although most of us spend our time walking in the streets with our heads down looking at our phones, digital billboards are still proven to work in terms of restaurant advertising ideas.
Branded Items
Whether it be a take-out cup, burger wrapper, or a doggy, any item a customer leaves your restaurant with has the potential of being free advertising for your establishment.
You can add much more than just your logo on these items. What about a QR code to an online menu for customers to browse their next purchase? A website for them to visit for the chance to win a free meal or to leave online reviews?
Branded items have gained a lot of potential in the past few years in terms of advertising businesses. Food and beverage establishments partnered with delivery services more than ever during the COVID-19 pandemic to sell their products to the public.
By doing so, restaurants had to start redirecting their marketing budget to branded advertising rather than traditional methods that required people to go out in the streets to see their billboard or their physical location.
It's more important to people now to worry about the packaging of their delivery items than actually the service in the restaurant. [Now they have to invest in packaging,] drivers and deliveries, taking comments, worrying about feedback, solutions to keep the food warm…and all of this money used to go in training waiters and reviving the experience and the vibe in the restaurant itself
By partnering with online ordering/ delivery services instead of doing their own delivery service, restaurants could also reach out to a larger number of prospective consumers.
Restaurant Google Ads
Many restaurant owners rely on organic search engine optimization (SEO) to advertise their business to potential customers. However, with the rise in competition, it has become more and more difficult to rank within the top 10 on any SERP.
As a consequence, the restaurant industry has started to spend more and more on paid ads, and more notably, Google Ads. This way, businesses can be assured that their ad shows in the top 2/3 choices on any given keyword they have bet on.
If you own or work in a restaurant and are looking for some help in your next advertising campaign, try working with a qualified advertising agency to help you find and create the best marketing strategy.
Read our article on restaurant google ads to set up your google ads campaign.
Best Restaurant Advertisement Examples
Take inspiration from these restaurant commercials that have successfully communicated their restaurant branding, distinctive values, and identity to their target audience.
Panda Express
Panda Express launched an advertisement featuring a little girl spreading joy by handing out fortune cookies around her school and town. The slogan reads, "Where good fortune smiles."
The 2-minute video makes you want to cry. Food and family will always go together, as this advertisement demonstrates.
Domino's Pizza
In the UK, the major demographic target audience for Domino's fast-food franchises is between the ages of 25 and 45.
The majority of individuals who would end up buying a pizza for whatever reason are the target demographic for Domino's impactful advertising.
Van Leuween Ice Cream
You may have never heard of Van Leuween Ice Cream, but they sure do a good job at using geo-targeted ads to get new customers into their shop.
The New York-based ice cream shop implemented a campaign that allowed customers to make mobile payments through the PayPal app. In order to perform the transaction, customers were obviously required to install the shop's app on their smartphone and link it to their PayPal account.
Once set up, the app used geolocation to detect when a consumer was near a Van Leuween store and offered them in-store deals and promotions.
Businesses can capitalize on this trend of mobile payments and track location, which can increase the chances of influencing a customer's decision at the point of purchase by making the deal contextually relevant.
Burger King
What about Burger King's "Always Better With Fire Ad"? The brand decided to use the epitome of fire, a volcano, to remind customers that all of their burger meat is cooked on a flaming grill.
Burger King 2.0
Yes, we're looking at Burger King again. They're just that good.
The Subservient Chicken was odd, to say the least. In 2004, he initially appeared, and then in 2014, he reappeared. However, this is still regarded as one of the finest restaurant advertisement examples of all time.
Less established chains may not be able to pull it off. Subservient Chicken, on the other hand, was just weird and hilarious enough to become an iconic ad moment.
Also, Burger King understands how nostalgic millennials are, and what better way to tap into that sentiment than by reintroducing their iconic chicken fries?
Hilton Hotels
No, you have not stumbled upon the best hotel advertisements! We are still talking about restaurants and yes, the Hilton Hotels have decided to have a digital marketing strategy in place for their restaurants as well!
And not just any type of marketing strategy either, they've gone all the way as investing in paid advertising to promote their restaurant online.
When you search "restaurants in New York" in Google, the Hilton Hotel's restaurant is the first one to appear on the SERP.
Dabble Restaurant and Bar is the Hilton's main restaurant. Its meta description provides potential customers with all the opening hours' information as well as the type of experience that awaits them.
Denny's
Enter Denny's Twitter account, which is full of strange restaurant commercial samples and funny tweets. Of all, when it comes to advertisements, social media is a whole new different ball game. Denny's, on the other hand, sends out off-kilter, amusing tweets like the ones below. They make sense at times. They don't always work.
Denny has developed a distinct social media voice and niche. And that's not easy. They understand that to be relevant, they need a younger crowd to discover the brand. Every tweet may be shared, keeping the brand in front of your thoughts as you read through your stream.
---
Looking
|
From 32,000 agencies, we narrow down to only the ones you'll love.

No commitment, totally free.
Show me agencies
---
McDonald's
It's almost impossible to talk about restaurant advertisement examples without mentioning one of the world's most recognizable brands. In terms of restaurant marketing ideas, McDonald's has come up with some iconic ad moments over the past few decades.
Arguably the most iconic one they produced was "The Showdown" which featured Michael Jordan and Larry Bird. It was such a hit, that decades later, LeBron James and Dwight Howard recreated the mythical ad.
The original 1993 version aired during the Superbowl. The fast food chain bet big by using two of the most popular NBA players of all time to feature in their restaurant advertisement. This version is also considered one of the best tv commercials of all time.
Legal Sea Foods
A good ad has the power to transform something old into something fresh. Take Legal Sea Foods as an example. It has a retro vibe to it and repurposes an old proverb that we've all heard before.
This commercial is not only a sharply designed ad, but it also makes us laugh. While the commercial looks shabby chic, the punchline is the most important part.
The crude marketing message ("make reservations") gains the depth of a classic adage, and takes on the depth of a classic proverb, reminding us that it is for those special occasions in our lives.
Essential Factors to Keep in Mind When Creating Restaurant Ads
When it comes to advertising your new restaurant, timing is crucial to a successful restaurant marketing strategy.
FOMO
People hate missing out. They like to be the first to explore new things and locations. So take advantage of the FOMO effect (fear of missing out) and create large and exciting initial marketing campaigns.
Target demographic
Knowing who your target audience is and how much money you have to spend helps you to tailor your restaurant marketing strategy.
Are you looking to bring in new customers? Or do you want to target existing customers? Do you want to offer specials to repeat customers? What about boosting your traffic just from your local community?
Seasonal Advertisement
Tailoring your restaurant advertisements to special occasions, changing seasons, seasonal holidays, and sporting events help you to reach out to your consumers and catch their attention.
Throughout the year, you should advertise your restaurant to maintain consistency and stay relevant to your consumers.
User-Generated Content (UGC) like competitions and discounts may help you build interest and engage your consumers, whether it's during the holidays or sluggish seasons.
This promotional content makes your customers feel important, and as a result, they will return to your restaurant regularly and tell their friends about it. Seasonal advertising also helps your business stay current and connected to clients by strengthening top-of-mindshare.
Seasonal restaurant ads, for example, may look like this:
Saint Patrick's Day is on March 17th (Buy 3 beers get 1 free)
Valentine's Day is on February 14th this year (Meal for 2 deals)
Christmas vacations (Christmas dishes with free drinks)
What Kind of Potential Does Good Restaurant Advertising Have?
Obtaining a great restaurant site, delivering outstanding cuisine, and conducting a typical marketing campaign no longer seem to cut it in a saturated food sector.
So, to stand out, restaurant operators have turned to the internet. Thousands of banner advertising are shown online each month, making life difficult for any aspiring or up-and-coming establishments.
So, how can you stand out in such a crowded field? By placing restaurant advertisements
Restaurant advertisements that entice people to visit your restaurant and make your business stand out among the sea of competitors. Restaurant advertising can only encourage consumers to attend if they first catch their attention and then resonate with them.
Summing Up
By now, your mind is most likely working on some fantastic, if not outlandish, ad ideas for your business.
But, before you get too excited, pay attention that a scattergun strategy may dilute your chances of success. As a reminder, while developing your advertising strategy, aim for a balance that is focused on both your company's goals and potential customers.
After your ads have gone live, be sure to evaluate their success and use what you've learned in your future campaigns.
Creative restaurant ads might help you reach more loyal customers than ever before. Simply by adopting an interactive and innovative restaurant ads campaign, such as the ones shown above, you will quickly engage more consumers than you ever imagined. Always remember that good ad stick. So try using every possible way to make it new and remain relevant.