Marketing & Advertising
Best Social Media Dashboards to Use for Business and Clients
Published on 16 March 2023 - 5 minutes of reading time

When running campaigns, you need the best social media dashboards that offer marketers a better approach to handling their daily marketing activities.
Social media offers an excellent network for marketers to diversify their operations and communicate directly with consumers. A recent analysis report has revealed that 75% of the world's population uses social media. However, marketers should not be amazed by the high number of social media users since they have a huge task to accomplish. 
Marketers should use every means to ensure they have a social media dashboard that works for them. 
What You Need to Know About Social Media Dashboards 
arrow_drop_down
What You Need to Know About Social Media Dashboards 
Reliable Dashboards Used by Experts 
Social Media Management Dashboard
Monthly Social Media Dashboard tools
Social Media Engagement Dashboard
Social Media Posts Overview Dashboard
Audience Growth Dashboard
Final Takes 
What You Need to Know About Social Media Dashboards 
A social media dashboard helps you to detect the impact of your social media networks on the growth of your business. The tool tracks all your operations, from sales and marketing to customer service recruitment.
Approximately 71% of business owners are using social media dashboards to evaluate the performance of their efforts. 
Besides, marketers who use this tool record a better conversion rate than those who work manually. Provided that you have a reliable dashboard, it gives you an apparent oversight of the impact of your social marketing efforts on the success of your business. 
Have you ever interacted with a social media dashboard? Do you know what it features? Let's take further steps and answer these questions. 
Reliable Dashboards Used by Experts 
You can easily compare data from multiple social media platforms to evaluate your business performance and have a reliable social media reporting dashboard to do all the work.
Below are the most reliable social media dashboards that you can use to facilitate your social media marketing teams and marketing strategy. 
Social Media Management Dashboard
Do you need help managing your social media team? The social media account management dashboard is designed to address your operations.
It lets you see all the activities happening on your social media networks in real time. It is one of the best social media dashboards designed to measure various engagement metrics. 
Some of the social media metrics that this dashboard measures include: 
Clicks 
Follower reach
Shares
Social media posts scheduled
Mentions
Reaction
Comments 
The dashboard helps you manage multiple social channels while ensuring everything runs smoothly. It can combine all your social media accounts activities and give you a better picture of the areas that need improvement.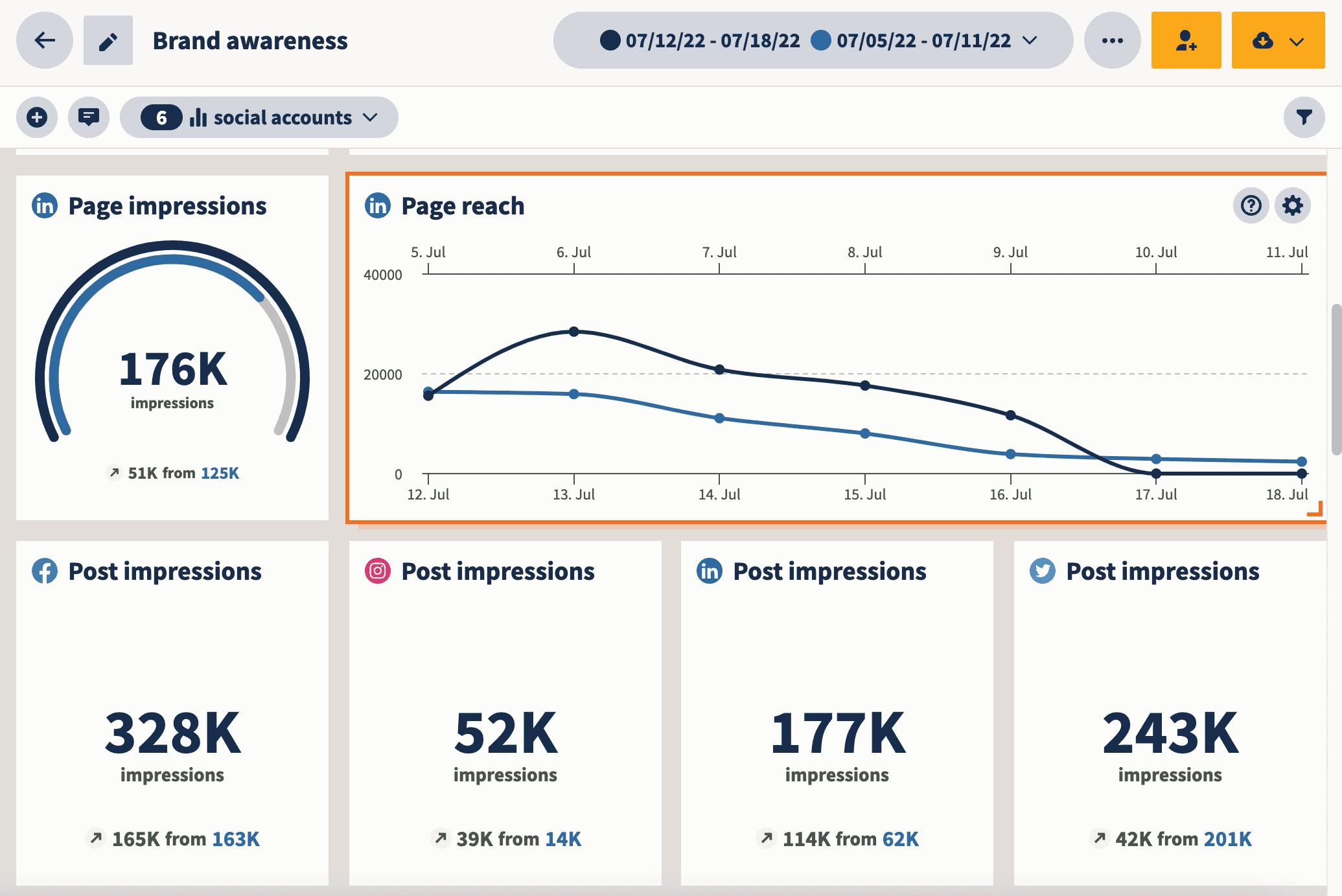 In addition, the social media metrics management dashboard offers a bird's view of your social media calendar, giving you room to prepare content ahead of time. Most people use this dashboard to monitor operations in different social networks to enhance the performance of their respective businesses. 
Monthly Social Media Dashboard tools
If you are running a social media marketing agency, you need the services of a monthly social media management dashboard. The dashboard offers you a multitude of parameters that it brings to display, helping you acquire all the in-depth insights you need into social media data. 
The key metrics tracked by this dashboard include the following: 
Audience size
Paid social ad performance
Organic social growth 
Create posts new content on every channel
Separating all the ad operations makes it easier to show your clients the steps you have achieved within a particular duration. Also, it gives a simple report by creating PPC charts that every individual can read and understand the progress of your business. 
The dashboard summarizes the brand performance across the entire social community. This dashboard is a unique and reliable option because you can easily customize it to suit your business needs. 
Social Media Engagement Dashboard
A social media engagement dashboard offers a mix of the overview between the overview dashboard and the granular dashboard.
It highlights all the activities of all your social media marketing team and social media managers without having to analyze them bit by bit. You can use this dashboard to measure engagement metrics on your account without going to read the comments and other interactions. 
The social media dashboard tools offer a detailed report evaluating different performance metrics. The metrics considered in this scenario include the following: 
Social media posts views
Social media posts, likes 
Popular posts by channel
Number of mentions
Post comments
Follower growth numbers 
Considering all these aspects, you can easily detect how customers engage with your brand on social media. 
The social media dashboard goes the extra mile to evaluate other aspects, such as customer demographics and geography. It helps you better understand your customers and offer them precisely what they need. 
Social Media Posts Overview Dashboard
This social media dashboard is primarily beneficial to C-level business executives who want to evaluate the performance of their social media channels. The dashboard operates by tracking the metrics outlined below. 
Shares 
Clicks
Follower growth
Likes 
Reach 
Comments
Impressions
Social messages
When all the metrics are displayed in a social media management tool, it becomes easier for you to analyze, gain insights and compare results of multiple platforms, including social campaigns.
The marketing campaigns result can be compared daily, weekly, monthly, and yearly. This helps business leaders analyze insight without digging deep into different pages to analyze performance using the social media analytics dashboard. 
Provided that you have the dashboard, you can easily detect possible changes across your market audience based on your content strategy. Also, it gives you room to improve your marketing strategies to help you get better results that will impact the success of your organization. 
Audience Growth Dashboard
Do you prefer live streaming over other options? How do you track your performance? The audience growth dashboard offers a simple way to monitor and track your market audience's growth on social media. The social media tools display different metrics such as:
Earnings per follower 
Total streamers 
Popular live streams 
Track conversations
Competitive analysis
Remember that your social media channels' growth mainly depends on your interaction. Once you gain visibility of all these social data, you can easily detect the milestones you have achieved within a given time frame.  
The dashboard's data give insights into every social channel's performance. You can therefore use this information to tailor new strategies that can impact your efforts and elevate your business performance. 
Final Takes 
Data visualization is critical when analyzing the performance of your social channels and the business in general.
With over 4.62 billion people using social media, there is a need for business stakeholders and marketers to invest in reliable dashboards to monitor the progress of their organizations. Choosing the right social media dashboard makes it easy to change the areas that matter to your business's success. 
Besides, you can customize them to suit the goals and objectives of your brand.