How it works as an agency
How we attract and qualify business opportunities for your agency.
You are looking for an agency? See how it works for a client!
Step 1Define your agency's DNA
Create an agency profile, add your previous works and get reviewed by your clients. Define the kind of opportunities you would like in your Preferences page. You will receive opportunities that fit with these data.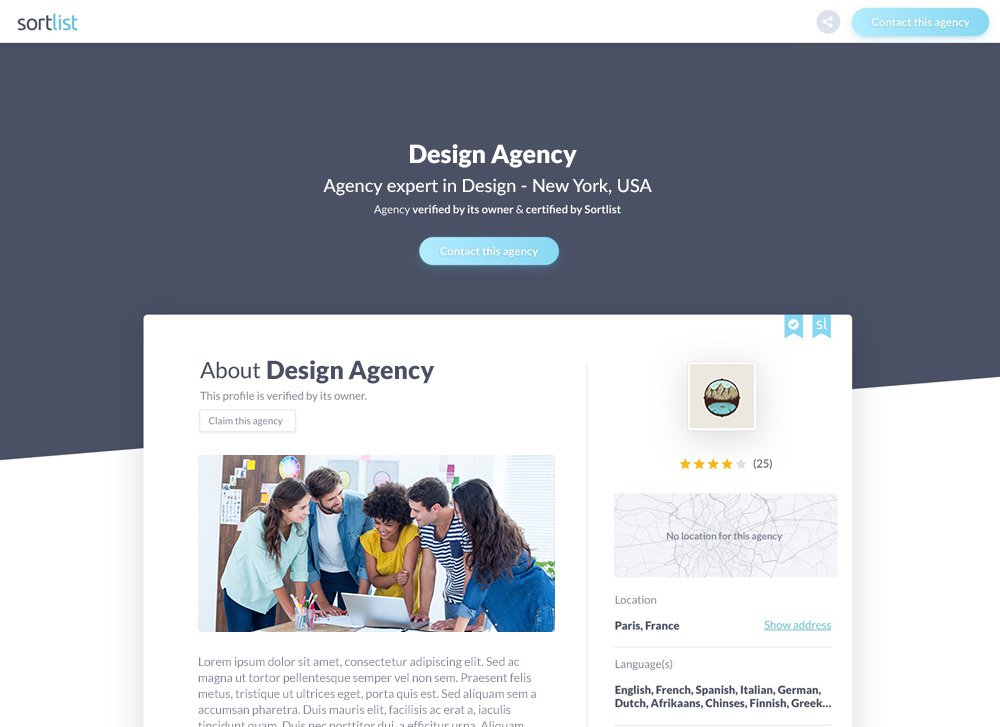 Step 2You receive business opportunities
Thousands of companies come to Sortlist every month looking to hire marketing agencies. They answer specific questions about their needs. Sortlist filters the most serious requests using a set of advanced methods. The agencies that correspond the most to the requirements of the clients are selected and receive the opportunities.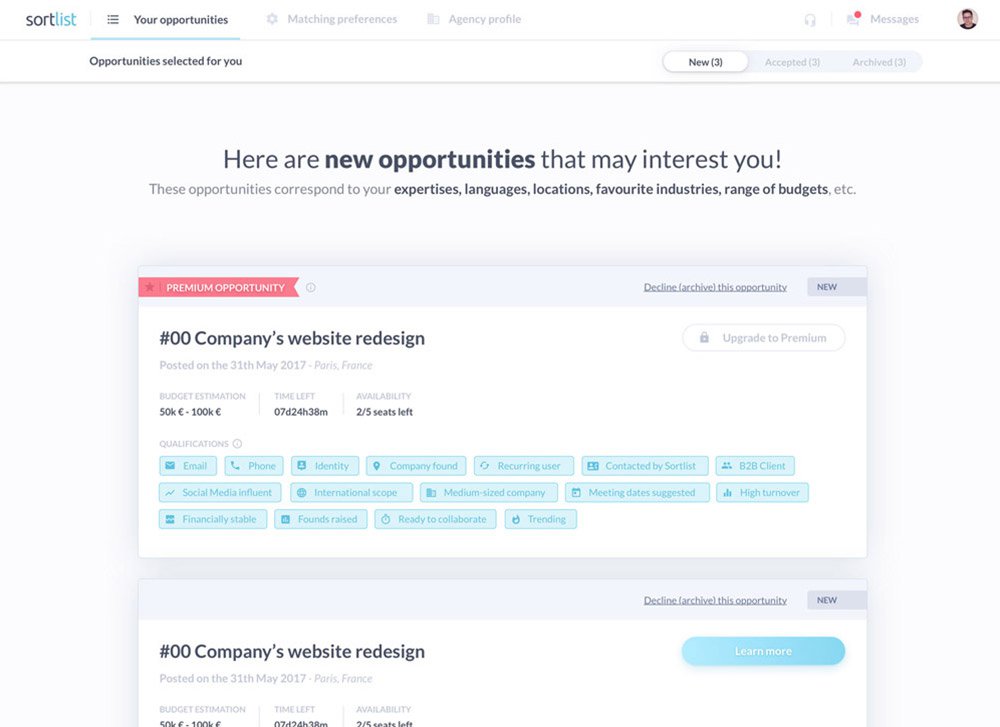 Step 3You decide who to answer to
If the opportunity is not relevant, you can decline it and adapt your agency profile for future opportunities. If you are interested and available, you can answer to the client by sending him a message. You only pay if you win the project and work for the client (Read more about the Commission system)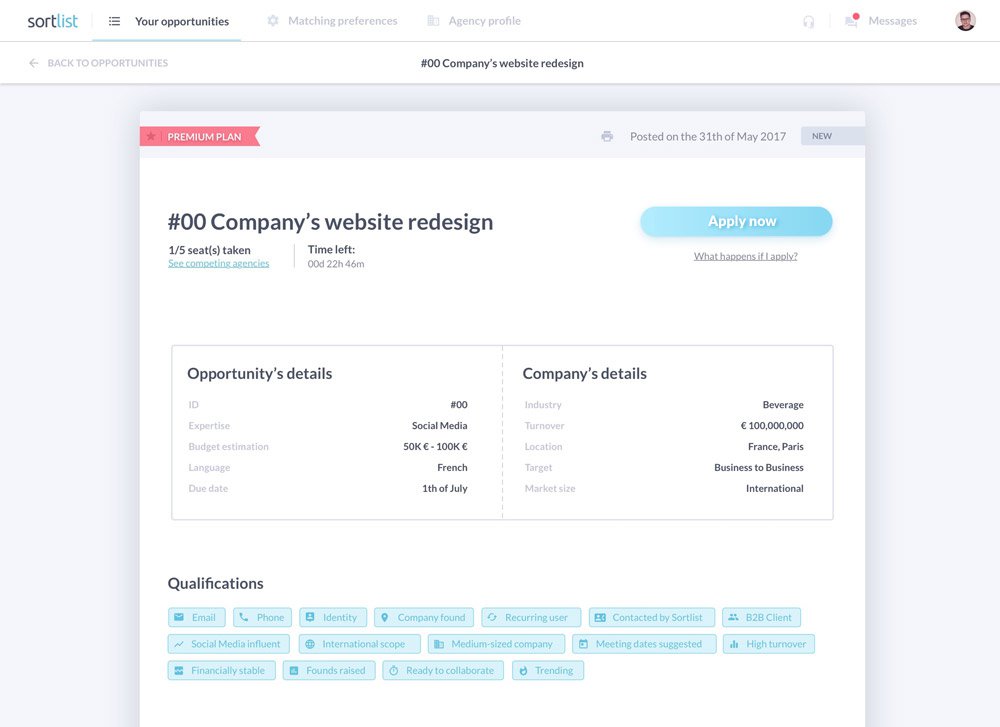 Step 4You follow up your business opportunities
After accepting an opportunity, you can directly interact with the client through Sortlist messenger. You also receive the contact information and can get in touch through traditional channels. You'll always keep the list of the clients you matched with and you can use it later for future business opportunities.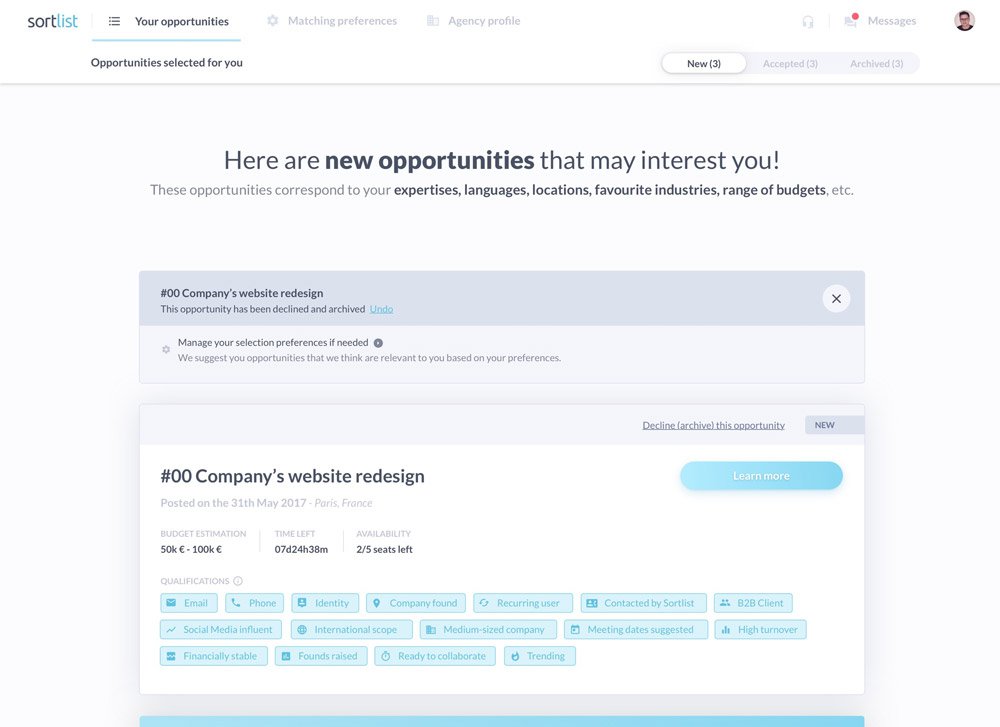 Get hired, and let us know!
Typically, 2-3 other agencies will also accept the opportunity. The client will compare your track-records and decide who to meet. Focus on doing your sales job! You and the client work out the details through Sortlist messenger, over the phone or in person. When your agency is hired, let us know and improve your chances of winning your next clients.
Start now!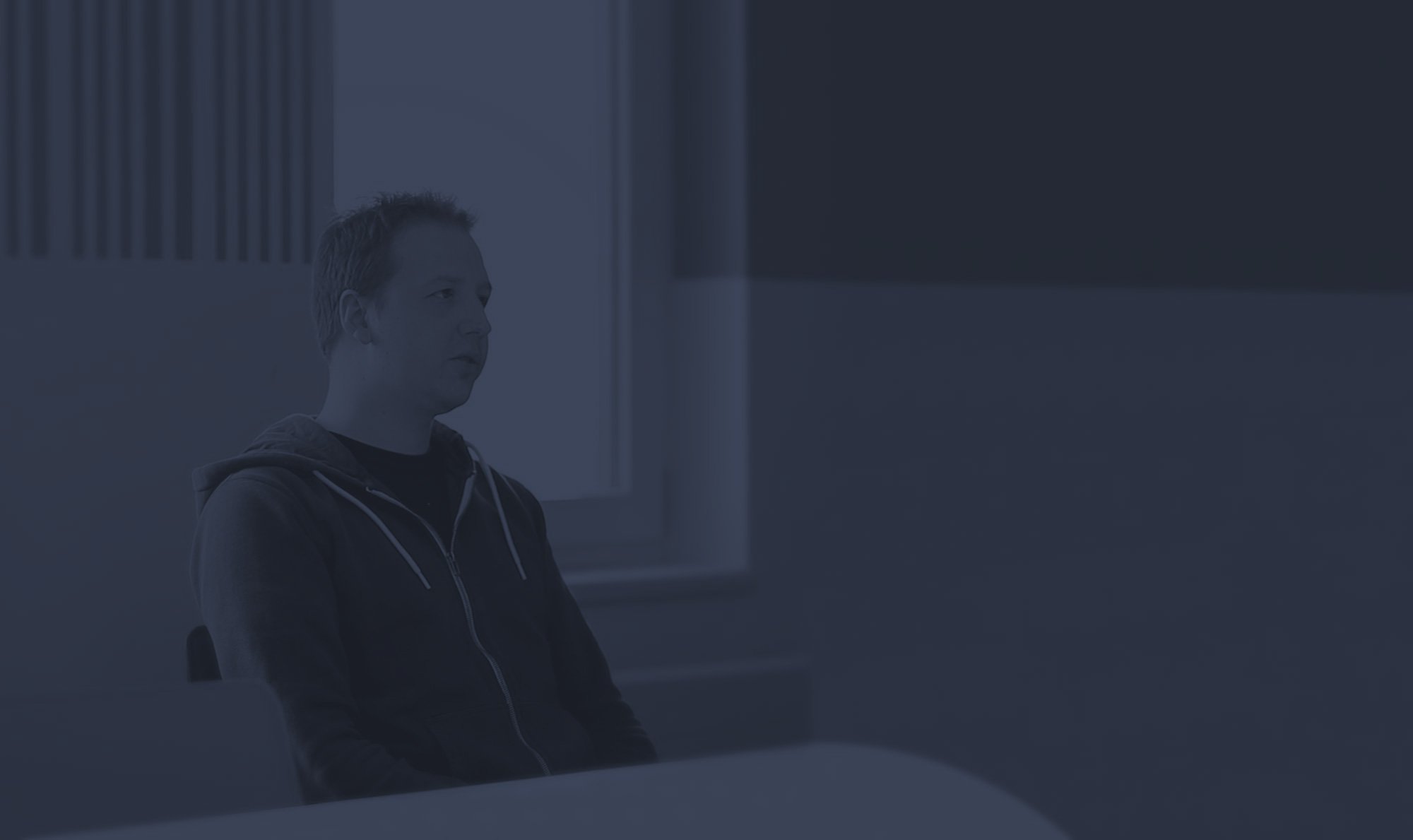 The first positive experience we had with Sortlist was with Softscale. I accepted the project and wrote up a short text to convince them. Apparently it convinced them since Softscale's CEO directly phoned me, we joked around on the phone and then we met up.
Cedric FaltinCreative Director at Alpaga Studio
Evelien Olaerts
As an agency, using Sortlist is really time-saving. You directly get full information about the company (budget, briefing, clients name,...) so the process goes really fast and easily. We get opportunities on a regular basis and we won several projects.
Guy Geerts
Knowing the market, there was certainly a need for something that could add some structure or some mild continuity there. And I think the new proposition of Sortlist in the market is something that addresses that need.
Manuel Noirfalise
I'm very happy with the tool, it's easy to use and briefings are detailed enough to decide to go for an offer or not. For an acceptable pricing, I get in touch with qualified and targeted leads so I can spend more time with them rather than prospecting.
Read more testimonials
How you'll improve your chances to get hired
A few advices to help you reaching your objectives!
Write clear and professional first message
Your message is the client's first impression of you. Make it a good one! Be sure to address any issues the client raised and respond to their specific needs. Set a chemistry meeting with the client and plan actions for clear next steps. Finally, pay attention to the small things: address the client by his name, make sure not to make spelling mistakes, and ask the client relevant questions.
Be an amazing salesperson
"You never get a second chance to make a first impression!" In the agency world, being human is key. Your salespersons are the first touch points with clients. Clients are looking for great professionals who are able to enhance their communication. Because they expect your team to be top players in the market, don't underestimate your sales training and sales process. Ask the right questions to your future clients, and keep asking if you don't understand what their challenges are. Assess their needs and make sure you have solutions that adapt to their budgets and fit their expectations as much as possible. Top salespersons spend 90% of their time listening to clients and 10% of their time responding to them.
Get reviews
Agencies with 1 review get hired 66% more than agencies with no reviews. Agencies with 3 or more reviews get hired 75% more than agencies with no review. Clients have told us that reviews are a major factor in their decision of who to hire. Take the time to ask your clients to write reviews. Nobody is perfect 100% of the time. In fact, research has shown that reviews that are not 100% positive are more credible.
Build a winning profile
Clients look for experienced agencies. Your profile is where you show them that your agency is the one for the job. Make an emotional connection with the client by adding a photo of your team on your agency profile – and be sure to show your smiling faces. Exhibit your track record with projects and cases that match, as much as possible, the client's needs. Make sure to include completed projects on your profile.
Don't give up!
Many agencies have doubled or even tripled the size of their businesses by simply responding consistently to client requests. For a majority of agencies on Sortlist, it usually takes around five tries to get their first hire. You can succeed, too – by being persistent and experimenting to see what works. Write different types of messages when you apply for a project opportunity; review your sales process; ignore requests that don't seem like a good fit – learn what works for you.
Any questions?
We are here to help.
Why did you craft Sortlist?

keyboard_arrow_down

The core team of Sortlist was previously active as a Digital Agency with mid-sized clients from Retail and Pharma industry. At that time, we spent a lot of energy to find clients and tried almost everthing including networking events or, worst of all, cold calls with leads that didn't even have a need... We discovered, how much commercial prospecting was a pain for small-sized agencies with focus on creativity. We also understood that it is a waste of time if done the wrong way. That's why we started building a strong automated acquisition process to generate real leads online that really needed our services. The product has grown and we opened the platform to other agencies.

How could it help my agency?

keyboard_arrow_down

As a service provider, you need clients to deliver for. After applying as an agency and completing your profile according to your positioning, we'll send you opportunities from clients that need your services. Opportunities have been filtered using different methods to keep only the ones that seems serious.

Which type of agencies do you accept?

keyboard_arrow_down

We love marketing agencies, no matter their size or expertise. Depending on their whishes, we match our clients with small creative studios or big advertising networks. The number of team members of our agencies ranges from 5 to 5000. Some are independent, other are part of groups. Some are specialized, other are full-service. Some think, other produce. We don't match with freelancers as we believe our clients are looking for teams having a collective experience and an historic continuity. We love top-level expertise, team spirit, unbridled creativity and marketing genius.

What kind of clients usually post a project?

keyboard_arrow_down

Mid-size companies (~10M€ turnover, ~100 employees) are usually looking for creative boutiques that are able to handle a wide range of expertises to take care of their brand. International brands are looking for very specialized agencies to help on projects that require an in-depth expertise or for bigger agencies that could manage their annual strategic advertising budget. We're also used to work with NGOs looking for rising teams to assist them on very creative campaigns. We don't usually work with small businesses and self-employed as they're not typical clients of our agencies. They better work with freelancers or choose the do-it-yourself as cost-effective solution. The clients using Sortlist have different profiles but one thing in common: they have a real budgeted marketing project.

What are the typical budgets of the projects?

keyboard_arrow_down

There is a wide range of budgets depending on the project, the company, the expertise and the expected quality. The average is around 37k€. The budget indicated on Sortlist is only an estimation of the client. We always help him define a fair budget if we see he has difficulties. But keep in mind that it is only a estimation and not a definitive budget. You are always free to negociate with the client once you meet him if you think the mission is undervalued. You are also free to upsell after the first mission without paying us any other fee.

How can I apply as an agency?

keyboard_arrow_down

To apply as an agency, go on that page and follow the steps. You'll be able to create your agency profile directly. After adding your agency, we'll ask you to participate to one of our weekly webinar in order to get to know each other.
Access to qualified opportunities now!
We attract and qualify business opportunities. You convert them into long-term clients.
Start receiving opportunities
Free registration. Pay only when you sign a new contract with a client.