Discover and browse our entire catalog of agencies.
Post a new project now and find the agencies matching your needs.
Let our industry experts help you choose the best suited agency.
Browse our providers
Search through a database of 38K talented service providers and collaborate with the best for your specific needs.
Let agencies come to you
Describe your needs in a short briefing containing your requirements. Send it to agencies we suggest you and wait for their answer.
Simple, quick and agile process
Complete & up-to-date market information
Personal assistance
Learn more about projects
Our advisors guide you to the right agency
Let our industry experts help you choose the best suited agency and turn your idea into a successful business project.
Learn more about advisors

---
WebbingStone
6th of October City, Egypt
The Digital Wizards
WebbingStone www.webbingstone.com is an innovative Digital Marketing Agency, Web Development with a regional outreach delivering services in MENA region through our sales representatives in KSA and UAE beside USA and Canada. We strive ourselves to high level of professionalism and transparency. We work as your team, we are very keen on integrating efforts with your marketing department, merging online and online marketing Strategies to assure the highest ROI for all your tactics. Our Creative Team works with passion on every and each case that our clients almost feels that we are their Internet marketing department not an outsource. Our experts develop strategies to raise your team capacity to assure that your esteemed company is ready to handle all your online assets by the time our work is fully delivered. List of our Services: Social Media Marketing Online Advertising Digital Marketing Consultancy Website Design and Development Mobile Application Development Search Engine Optimization Services Online Reputation Management Social Media Management Our team of social media experts can manage your accounts on your behalf and engage with your audience. Brand Monitoring We can help you improve and track the reputation of your business and and out how people perceive your brand. Social Media Contests Create social buzz, people like to engage only if given the chance to contribute. We tailor a bespoke content marketing strategy for each client. Our experienced copywriters know exactly how to make words sell. Content Marketing builds communities, inspires engagement and increases rankings via creation and sharing of high quality, problem-solving relevant information, aiming to satisfy usiness objectives. It helps influence consumer behavior, with the end goal of boosting sales and increasing interaction between the brand and customer. SEO Content Optimization Our full-service SEO team integrates content into a complex strategy to increase your site's visibility and conversions. Website Design and Development Your Website is your online Marketplace. Our Web development team knows what's best for your business. Our Websites are cross device responsive and tested for high speed and response. We tell your story and what you are good at. We write and design your web development project content and Visuals to express your corporate identity and present your company elegantly. Our websites are clean coded and optimized for search engines ranking. We take care of all SEO aspects and ranking factors in all our Web Development projects. We generate the most engaging content , text, graphics and even video content.
---
Services
19 services offered by WebbingStone
Service name
---
Related reviews
---
Starting from
---
---
---
Team
14 members in WebbingStone's team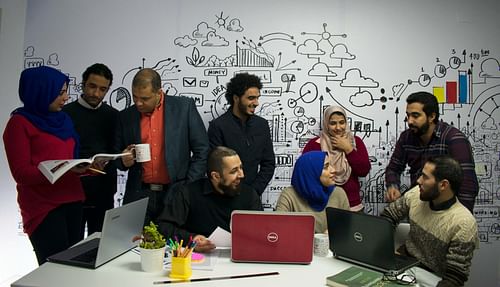 Story
Webbing Stone was started in 2015 by 5 shareholders, They were backed with different skills, development at Microsoft 14-25 years, Marketing director, project Management, and Digital marketing experts. we keep on integrating innovation and new trends within our projects and we believe this is our edge in this industry.
---
Awards
WebbingStone was awarded 1 time
National Museum of Egyptian Civilization Portal
2021-02-28
Web Development
---
---
Reviews
12 reviews for WebbingStone
Ryan Curran
General manager at garden of art
What was the objective behind your collaboration?Worked with the team directly and they all had a great impact on my digital marketing strategy on all platforms. Very professional and helpful individuals. Would highly recommend.
What did you enjoy the most during your collaboration?Fantastic creative team - great ideas, vision, and execution. Highly recommended for web design and marketing advice.
Ryan Curran recommends this agency
---
ZamZam Steel
GM at ZamZam Steel
Sector
Industrial Goods & Services
What was the objective behind your collaboration?I had the pleasure to work with the team at WebbingStone, This team is the most hard working, Useful and ambitious group of people I've worked with. They did not disappoint in taking my company to the next level. Also loved how creative and seamless their process is. Great experience.
What did you enjoy the most during your collaboration?Highly Recommend! They are innovative, creative, and results-driven. The consistency in their communication is optimal. It is clear our success is their top priority.
ZamZam Steel recommends this agency
---
Dalil imex
CEO at Dalil imex
What was the objective behind your collaboration?Great work and wonderful staff and very affordable prices. 😃
What did you enjoy the most during your collaboration?Very reliable and professional company. Thank you for your services.
Dalil imex recommends this agency
---
Worked with WebbingStone?
Share your experience with us.
---
Contact
Contact details of WebbingStone
Details
---
---
Headquarter

500 Abd El-Moneim Riad Abd El-Khalik Tharwat, Giza Governorate, Egypt

---

6621 W Crestview Loop SE, Snoqualmie, WA 98065, USA

---

Ning An Da Jie, Jinfeng Qu, Yinchuan Shi, Ningxia Huizuzizhiqu, China
---